Hostmonster 3.95 is an exclusive promotion available to us for being loyal customers, rather I must say Happy customers who also spread the Hostmonster happiness :).
Hostmonster is one of the pioneers of shared hosting & loved by millions of customers worldwide. They are an affordable host & with this one time offer (3.95$ promotion coupon a month), they are almost giving it free. Get this Hostmonster 3.95 Promo here:
---
Detailed Hostmonster Review
Hostmonster is an American hosting company based in Provo, Utah. It started in the year 1996 and since then has a long standing history of offering budget shared web hosting for individuals and businesses alike. It has now been taken over by Endurance International Group (EIG), which is the single largest web hosting business with over 30 hosting brands and millions of customers worldwide.
Host Monster hosting is popularly known as a cheap shared hosting provider, with nicely crafted packages that provide good foundation for running a simple website or blog. Also there are several options for customers to upgrade to extra features as needed. In this Hostmonster Review, we will discuss the Hostmonster plans and packages, pricing, features, pros and cons.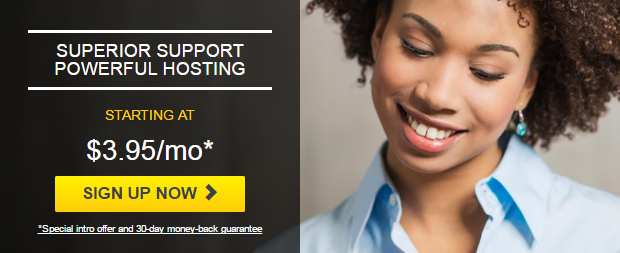 Hostmonster Hosting Plans & Pricing
For years, Hostmonster offered only a single shared hosting package. The company has been growing rapidly and a few years back started offering VPS solutions too as a part of expansion of its services. Currently, Host monster offers following types of web hosting services:
Shared Hosting
VPS Hosting
Dedicated Server Hosting
Shared hosting is what you would choose if you are a budding blogger or small-to-medium business owner. As the traffic on your website increases and you need more resources, you can easily upgrade to high performance shared hosting plan or even VPS hosting. At present, the company does not offer managed wordpress hosting or cloud hosting as its sister-company Bluehost. But it will be no surprise if very soon, they venture into wordpress hosting solutions too.
Hostmonster Shared Hosting Plans
Hostmonster offers 4 different shared web hosting plans. The table below compares each plan's important features in detail.
Basic
Plus
Prime
Pro
Websites
1
10
Unlimited
Unlimited
Website Space
50 GB
150 GB
Unlimited
Unlimited
Bandwidth
Unlimited
Unlimited
Unlimited
Unlimited
Free Domains
1
1
1
1
Parked Domains
5
20
Unlimited
Unlimited
Sub Domains
25
50
Unlimited
Unlimited
Email Accounts
5
100
Unlimited
Unlimited
Email Storage
100MB per account
500MB per account
Unlimited
Unlimited
Server Performance
Standard
Standard
Standard
High Performance
Extras
–
1 SpamExperts
Over $24/yr in extras
1 SpamExperts
1 Domain Privacy
1 SiteBackup Pro
Over $80/yr in extras
1 SpamExperts
1 Domain Privacy
1 SiteBackup Pro
1 Dedicated IP
1 SSL Certificate
Regular Price
$9.49/mo
$12.49/mo
$14.99/mo
$25.49/mo
Discounted Price
$3.95/mo
$5.95/mo
$6.95/mo
$13.95/mo
Though the regular price of their entry shared hosting package is not so low, but you can get this package at a much cheaper price with the promotion that the company is currently running and which we are a part of. So our visitors need to pay only $3.95 per month for Hostmonster basic shared hosting plan. Since, these plans renew at regular rates, we always recommend that you buy their 2 year or 3 year term plans, so you can clock in maximum cash savings. Don't worry about the quality of service and remember in the worst case, you are covered by 30 day full money back guarantee.
Hostmonster VPS Hosting Plans
Hostmonster boasts that they design and build their VPS servers from ground up and use advanced cloud technology like, Open Stack and KVM to guarantee server resources you purchase. Plus the server is instantly provisioned and managed by their expert staff.
You could choose from four VPS hosting plans:
| | Standard | Enhanced | Premium | Ultimate |
| --- | --- | --- | --- | --- |
| Speed | Dual Core | Dual Core | Triple Core | Quad Core |
| RAM | 2 GB | 4 GB | 6 GB | 8 GB |
| Storage | 30 GB | 60 GB | 120 GB | 240 GB |
| Bandwidth | 1 TB/month | 2 TB/month | 3 TB/month | 4 TB/month |
| Free Domains | 1 | 1 | 1 | 1 |
| IP Addresses | 1 | 2 | 2 | 2 |
| Linux OS | CentOS 6.5 (64-bit) | CentOS 6.5 (64-bit) | CentOS 6.5 (64-bit) | CentOS 6.5 (64-bit) |
| Regular Price | $29.99/mo | $59.99/mo | $89.99/mo | $119.99/mo |
| Discounted Price | $19.99/mo | $29.99/mo | $44.99/mo | $59.99/mo |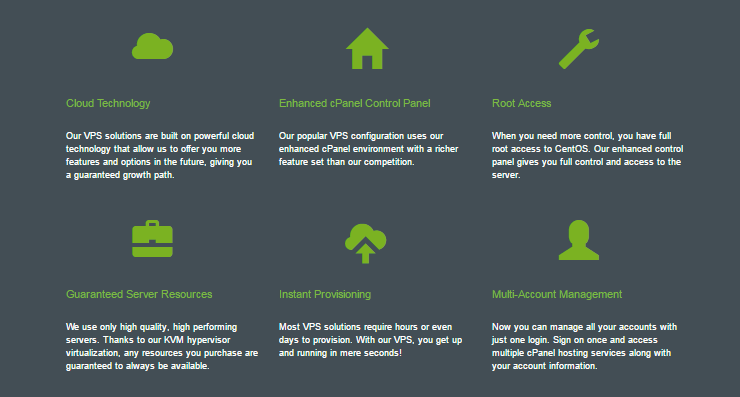 Hostmonster Hosting Features
Hostmonster provides enhanced cPanel to its customers for site administration and maintenance tasks. The standard backup facility has been removed from this cPanel, so remember that you will need to set up the backups yourself. You will get 1-click WordPress install app, which is very simple and useful. Also, Hostmonster uses MOJO marketplace, so you will have access to a great selection of apps and scripts. There is also a free website builder included in the hosting plans, which though is not one of the best site builders available today, but will definitely do a fine job of creating adequate website for you quickly.
With Host Monster, you get a complete suite of e-commerce capabilities with SSL secure server, password-protected directories, OpenPGP/GPG encryption and a wide selection of shopping carts – Agora, Zen Cart, Cube Cart, OS Commerce etc.

Hostmonster Customer Support
Customer Service team of Hostmonster is based in Utah, USA and is available all 365 days all round the clock. You can reach them through phone, email or live chat. Their team is pretty much active on twitter and found quite responsive to issues raised by any customers on twitter.
Hostmonster also has an online Help Center that houses a knowledge base of tutorials, user guides and user forums.
Hostmonster Cancellation Policy
Hostmonster offers a simple 30-days money back guarantee. You can raise a request for cancellation via any of the support channels. If you requested for cancellation within 30 days, you get a full refund otherwise you get a prorated refund for the remaining hosting term. But this money back guarantee is applicable only on web hosting product, so any add-ons that your buy, for example domains, will not be refunded back.